5 Uncommon Beer Styles to Try for the Adventurous Drinkers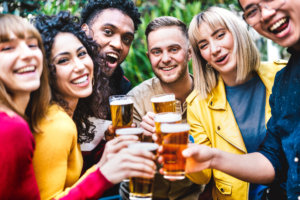 Beer styles are essentially ways in which beers can be categorized based on factors such as color, flavor and ingredients, as well as their production method and origin. Depending on these factors, you'll find there are quite a few beer styles to consider, but that many of them are also pretty similar. The following five beer styles that a well stocked beer store near me has available as some of the most unique and uncommon that you should definitely try:
The India Pale Ale (IPA) is an originally traditional English style that was one of the most important styles when it came to the growth of craft beer in the Americas. Today it's known as a strong ale that's balanced out by its sweet backbone.
Porter was the working man's beer in 19th century London, and its Victorian aroma is still not lost upon today's connoisseurs. Its roasted malt flavor offers plenty of complex bitterness to enjoy.
Dark and satisfying, stout beer is a style that is pretty much known as the Irish version of English porter. The use of roasted barley gives stout a coffee-like flavor, but at the same time it also has a creamier feel.
The New England or North East IPA is a lesser known, fruity and aromatic style that can be seen as a somewhat bold attempt to challenge traditional low-malt IPAs.
The Belgian and Trappist styles originate from one of the world's most important brewing traditions. Belgium has been known as one of Europe's most distinguished sources of beer since the Iron Age, and the brews of Trappist monks from the farmlands of Flanders are still known for their unconventional brewing techniques.
Alpine Wine and Spirits Vail
2109 N Frontage Rd West
Vail, CO 81657
(970) 479-8116
https://alpinewinevail.com/wp-content/uploads/2022/11/alpine-wine-spirits.webp
0
0
Val Goranov
https://alpinewinevail.com/wp-content/uploads/2022/11/alpine-wine-spirits.webp
Val Goranov
2023-02-25 17:42:39
2023-02-23 18:11:41
5 Uncommon Beer Styles to Try for the Adventurous Drinkers