Best Apres Ski Homemade Drinks
From Nordic cultures inventing them to the Alpine Europeans bringing them to the United States, apres-ski drinks have been going around for quite some time. Today, they are pretty well-known worldwide, and if you want to enjoy the best drinks out there, most experts selling quality liquor near me in Vail will undoubtedly already have a few pointers suggesting some great homemade apres-ski drinks.
One delicious whiskey-spiked drink you can try is the bourbon maple cider. While served hot, the drink features ginger liqueur that cuts the sweet sensation produced by maple syrup, and the black pepper on top will present a slight punch that won't fail to warm you up as soon as you try it.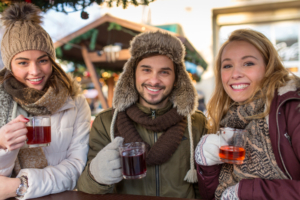 While you're at it, why not try the creamy and slightly sweet geschmozzle? This drink combines Ameretto vodka and raspberry white chocolate liqueur to create a uniquely sweet but also quite bracing  taste that is not likely to resemble pretty much anything you're used to. The full-bodied hot coffee cocktail is just perfect to use as a fireside drink, and can be ideal when you're planning to hit the slopes later in the afternoon.
Finally, the Sir Patrick Stewart is a perfect drink for gin lovers to enjoy before skiing. The hard pear cider will give it an entirely unique flavor whilte its fizzy texture combined with a silky finish makes this drink out to be one of the more refined additions to our list.
Alpine Wine and Spirits Vail
2109 N Frontage Rd West
Vail, CO 81657
(970) 479-811
https://alpinewinevail.com/wp-content/uploads/2022/11/alpine-wine-spirits.webp
0
0
Val Goranov
https://alpinewinevail.com/wp-content/uploads/2022/11/alpine-wine-spirits.webp
Val Goranov
2023-02-18 13:11:00
2023-02-09 13:18:32
Best Apres Ski Homemade Drinks