Top 10 Whiskies to Try This Year
According to a liquor store offering excellent whiskies, these are some of the top to try!
Macallan 18 Year Old: This iconic Scotch whisky is renowned for its rich and complex flavor profile, with notes of dried fruits, spices, and a touch of oak. You'll find it to be a true classic!
Hibiki Japanese Harmony: From the land of the rising sun comes this elegant Japanese whisky. Hibiki Harmony is a harmonious blend of malt and grain whiskies, offering a delicate balance of sweetness and subtle smokiness.
Balvenie DoubleWood: Aged in traditional oak casks and finished in sherry casks, this Speyside single malt whisky boasts a luscious combination of honey, vanilla, and dried fruits.
Glenfiddich Reserva Rum Cask Finish: This unique whisky is finished in Caribbean rum casks, imparting delightful flavors of toffee, spices, and tropical fruits.
Jameson Caskmates Stout Edition: For those seeking a twist, this Irish whiskey is aged in stout-seasoned barrels, resulting in a smooth and malty character.
Lagavulin: Peat lovers rejoice! Lagavulin 16 is an Islay single malt known for its robust and smoky flavor, balanced with notes of sweetness and maritime influences.
Booker's Bourbon: This small-batch bourbon is uncut and unfiltered, delivering a powerful and full-bodied experience with rich vanilla, caramel, and a kick of spice.
Talisker, 10 Year Old: Hailing from the Isle of Skye, this single malt Scotch offers a smoky and maritime character, along with flavors of pepper, honey, and citrus.
Four Roses Single Barrel: This Kentucky bourbon is a masterclass in balance, showcasing a smooth and rich profile with notes of caramel, fruit, and spice.
Yamazaki: From Japan's oldest whisky distillery, Yamazaki is a well-rounded single malt with hints of dried fruit, cinnamon, and oak. It's a testament to Japanese craftsmanship.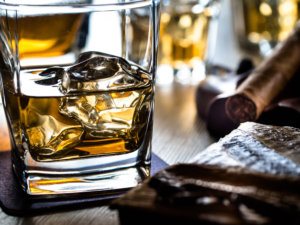 Alpine Wine and Spirits Vail
2109 N Frontage Rd West
Vail, CO 81657
(970) 479-8116
https://alpinewinevail.com/wp-content/uploads/2022/11/alpine-wine-spirits.webp
0
0
Val Goranov
https://alpinewinevail.com/wp-content/uploads/2022/11/alpine-wine-spirits.webp
Val Goranov
2023-07-17 21:28:27
2023-07-17 21:28:27
Top 10 Whiskies to Try This Year