Practical Accessories You Can Find at a Beer Store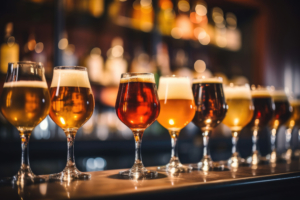 When people go to a beer store, they do not only go there for their favorite beverages. There are also products such as beer accessories. For instance, bottle openers are this store's most used type of accessory.
If you prefer corked wine or mead, a good-quality corkscrew can be of valuable help. And, of course, glasses are essential in enjoying the whole experience. Beer glasses can increase your beer's presentation, aroma, and flavor. You can choose pilsner glasses, pint glasses, or tulip glasses. Beer mugs can be another excellent choice.
If you like your beer cold, you will likely leave condensation rings on your wooden furniture. So, a set of beer coasters can be an excellent idea, and you can find them in materials such as cork, rubber, or cardboard.
Of course, you want to keep your beer cool, so you can go for can coolers. They are especially recommended for picnics and other outdoor events. Stainless beer chillers can also do the trick. Or, if you prefer whiskey, you can go for whiskey stones, which you can freeze before adding them to your liquor glass.
When visiting a beer store with a wide selection of beers, exploring beyond just the beer section is always a good idea. You might discover some handy accessories or gift options for fellow beer enthusiasts.
Alpine Wine and Spirits Vail
2109 N Frontage Rd West
Vail, CO 81657
(970) 479-8116
https://alpinewinevail.com/wp-content/uploads/2022/11/alpine-wine-spirits.webp
0
0
GFF
https://alpinewinevail.com/wp-content/uploads/2022/11/alpine-wine-spirits.webp
GFF
2023-10-23 18:54:36
2023-10-25 10:24:12
Practical Accessories You Can Find at a Beer Store